Dentures – Everett, WA
Lost Your Smile? You Can Get It Back!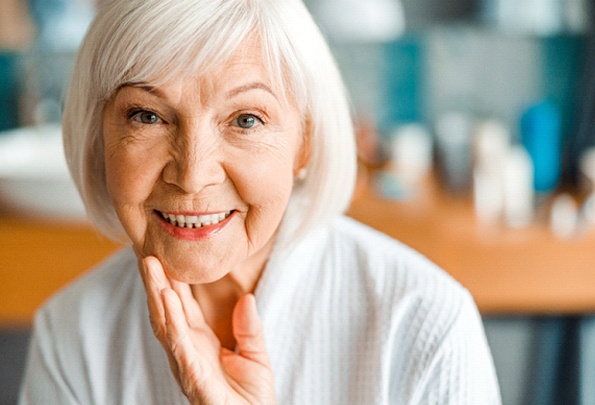 After losing an entire row of teeth or being told that the last of your teeth need to be extracted, you might start dreading a future of being unable to eat most foods or speak in a way that others can understand. But your smile doesn't have to stay incomplete or empty forever. With full or partial dentures personalized by Dr. Kaopua, you can enjoy an attractive, functioning grin again. The first step to enjoying a full set of teeth again is to call and set up a consultation with us.
Why Choose Albright Family Dental for Dentures?
Partnered with High Quality Dental Labs
State-of-the-Art Dental Technology
Dentist Experienced with Restorations
Who's a Good Candidate for Dentures?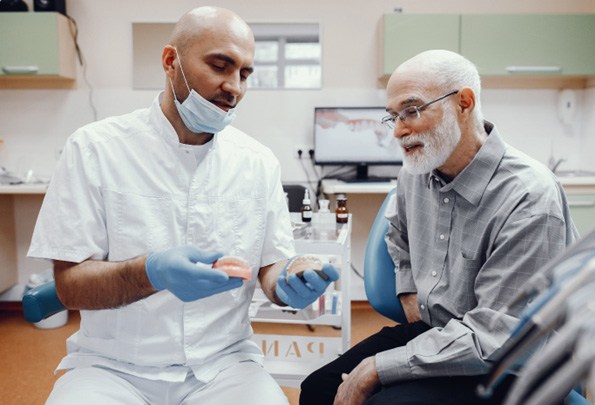 Whether you're missing one tooth or many, almost anyone can get dentures. Being a good treatment candidate doesn't require that much. Still, you must consult Dr. Kaopua to confirm whether dentures would work for you. He can assess your smile and see if the restorations are a suitable option. In case they aren't, he could also make you a later candidate by healing your gum tissue and bone structure. To learn more about denture candidacy, keep reading or call our office for details.
Types of Dentures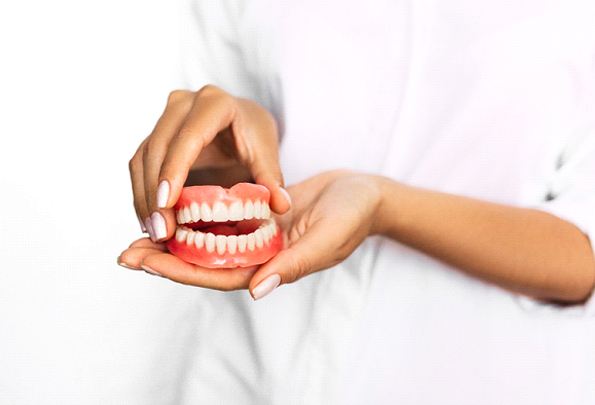 A denture is made of prosthetic teeth attached to a plastic gum-colored base. Different kinds of dentures are available depending on individual patient needs and preferences.
Partial Dentures: If you have multiple missing teeth, partial dentures can fill in the gaps without needing to remove the rest of the arch. Metal clasps are used to attach the dentures to your natural teeth for added stability.
Full Dentures: Traditional full dentures remain as useful as ever for replacing entire rows of teeth. Modern techniques have made full dentures even more comfortable, and they can be designed to fit securely on your unique gumline.
Implant Dentures: We can anchor dentures to dental implants so that you can continue to enjoy the benefits of teeth supported by roots that have integrated with the jawbone.
Benefits of Dentures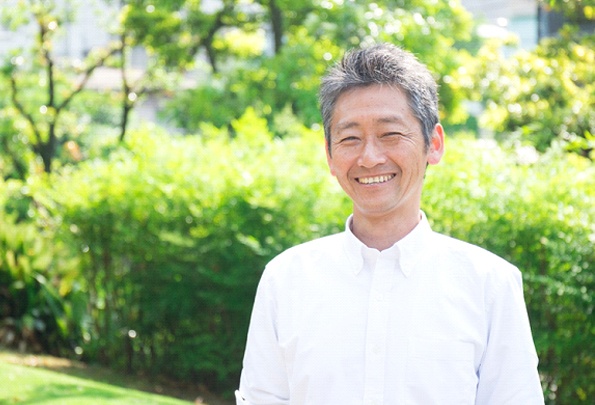 When someone is missing multiple teeth, it can be challenging to complete tasks they once found easy. This includes chewing their food, speaking clearly, and smiling with confidence. Fortunately, dentures are a life-changing tooth replacement option for patients who are missing multiple or all of their teeth. It can improve the quality of life! If you've struggled with tooth loss, dentures can give your smile another chance by providing the following benefits.
Tips for Day-to-Day Use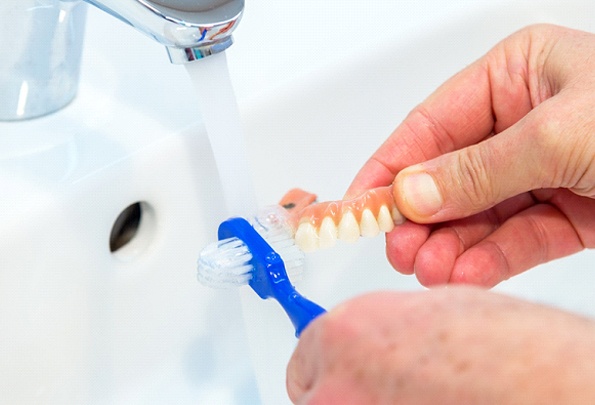 Never let your dentures dry out. When you take them out at night, be sure to soak them in a denture cleansing solution. Dry dentures could easily fracture.
Brush your dentures on a regular basis. Don't forget to brush the gums as well; bacteria can still build up in the space between the dentures and the tissue.
Take the time to practice speaking with dentures; when you're first getting used to them, it helps to repeat words that you have trouble pronouncing.
If your dentures slip out of place, gently bite down and swallow.
Understanding the Cost of Dentures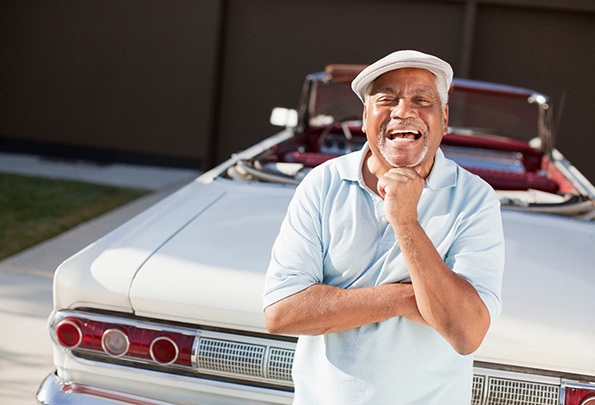 You want to rebuild your smile with the help of dentures. Their popularity and ability to restore a person's ability to eat, speak, and smile with confidence are evident. You're ready to take the next step, but do you know how much they will cost? Determining how much you can expect to pay for your new set of teeth requires a scheduled consultation with our team. But before you arrive, feel free to review the information below, as it discusses more of what you can expect when it comes to the cost of dentures in Everett.
Dentures Aftercare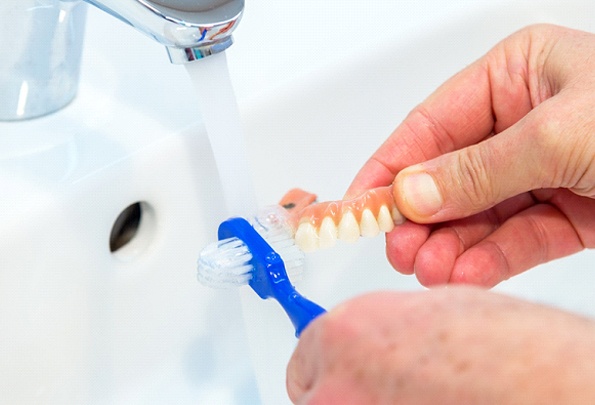 While dentures can transform and improve your smile entirely, you'll need to take proper care of them so that they last. After all, you'll eventually need to replace them with new ones, but that doesn't mean you have to do so prematurely. Other than visiting your dentist every six months for routine checkups, here are several other ways that you can care for your dentures so that you can make the most of your tooth replacements.
Denture FAQs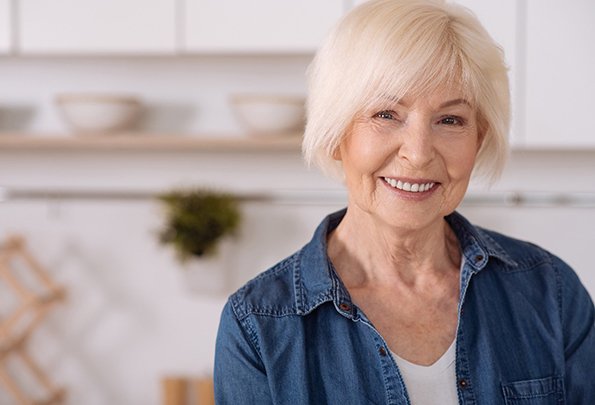 If this is your first time getting dentures, chances are that you're currently struggling with the mental toll that often comes with extensive tooth loss, which in turn can make the process of getting new teeth stressful. To make things easier for you, our team is ready to answer any questions you might have about dentures in Everett. If you can't find what you're looking for among the FAQs below, please give our team a call so that we can address your specific concerns.