All-on-4 Dental Implants – Everett, WA
Strong, Sturdy Smiles with Just 4 Implants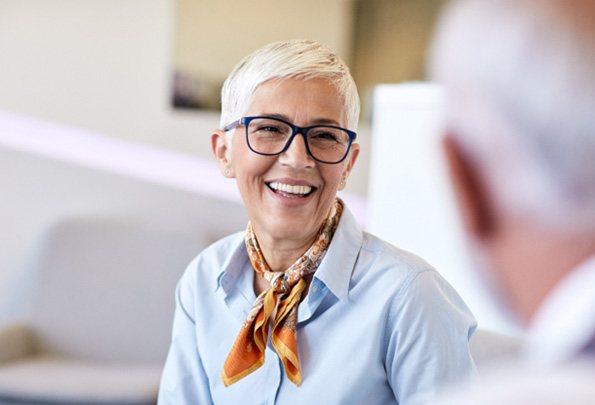 Some people think that they need to get an individual dental implant for every tooth that's missing in their mouth, but with All-on-4, we can replace an entire row of teeth using just four implant post in carefully chosen locations. Attaching your dentures to dental implants stops them from moving around, making it easier to speak clearly or chew different foods. If you're interested in the All-on-4 procedure, give our office a call today.
Why Choose Albright Family Dental for Full Mouth Dental Implants?
Start-to-Finish Implant Placement & Restoration In-House
Trusted Dental Experts with Years of Experience & Training
Dental Insurance Accepted & Financing Available
Why Choose Albright Family Dental for All-on-4?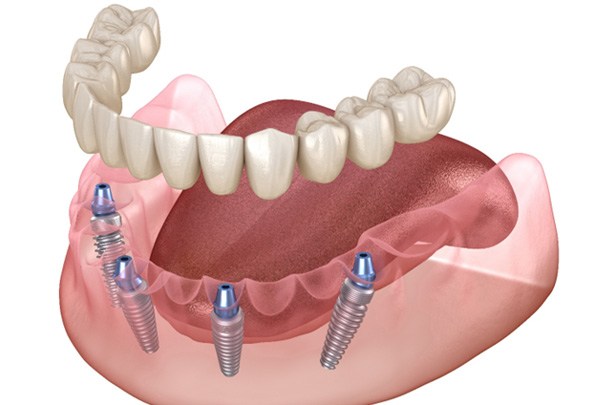 Implants Placed and Restored In-House
Judgement-Free Dentists and Team
CBCT Scanner for Easier Treatment Planning
How Do All-on-4 Dental Implants Work?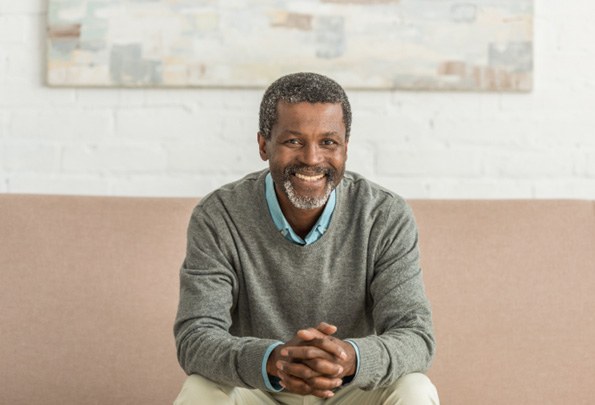 Dental implants are unique among tooth replacement options in that they are surgically inserted into the jawbone so that they can provide the same benefits as natural tooth roots. With the All-on-4 procedure, four dental implants are inserted into the jaw so that they can support a full denture. Each implant is strategically placed in the thickest parts of the jawbone for maximum stability. The implants toward the back of the mouth are inserted at a 45-degree angle so that they join with the thicker parts of the jawbone, reducing the need for bone grafts to prepare the jaw. Once the posts are in place, they can reliably and comfortably support a full set of new teeth.
Am I a Candidate for All-on-4 Dental Implants?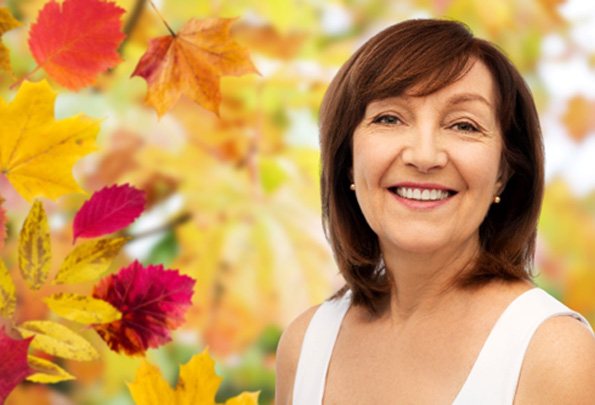 Any adult that has lost all teeth in one or both arches is potentially a good candidate for the All-on-4 procedure. Since All-on-4 can often eliminate the need for a bone graft, it can be an excellent choice for people who have suffered bone loss in the jaw. We will need to confirm that you're in good oral health before performing the surgery. If you have gum disease or another condition that could potentially lead to implant failure, it will need to be treated first.
Benefits of All-on-4 Dental Implants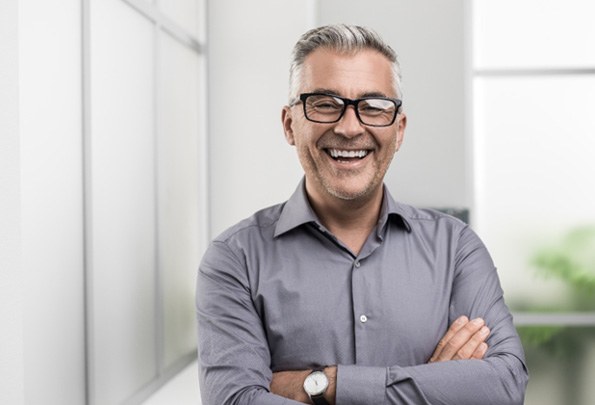 Unlike traditional dentures, All-on-4 dentures can be permanently fixed in the mouth so that you can brush and floss them as if they were natural teeth.
The implant posts will help your new teeth feel more natural in your mouth.
Sturdy implants give your dentures more chewing power so that you can eat whatever you want.
The stimulation from implants prevents your jaw from losing bone density.
All-on-4 VS Traditional Dental Implants
Traditional implant dentures may require up to eight posts. In comparison, the All-on-4 procedure is more conservative and less costly. Also, All-on-4 can often be performed without bone grafting, and the implants are often stable enough to support a temporary denture right away; with traditional techniques, you may have to wait a long time after the initial surgery to get new teeth.
All-On-4 Dental Implants FAQs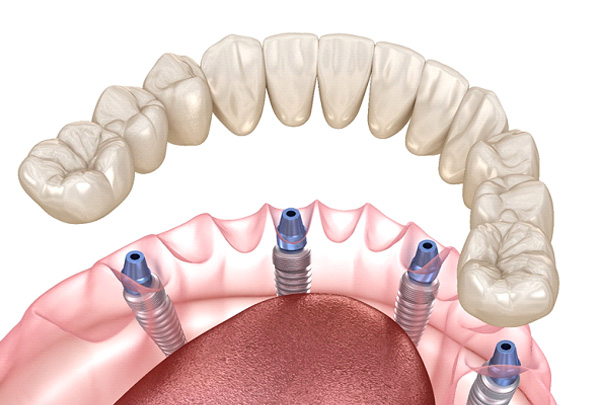 If you're missing all of the teeth on an arch, All-On-4 dental implants could be the ideal solution for you. However, choosing a tooth replacement option is a huge decision, so it pays to be well informed. Here are the answers to some of the most common questions we are asked about All-On-4 in Everett. If you don't see the information that you're looking for below, don't fret! Give us a call, and we would be happy to address any questions or concerns you may have.